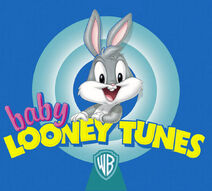 Baby Looney Tunes is a Canadian-American animated television series that shows Looney Tunes and Merrie Melodies characters as toddlers. It was produced by Warner Bros. Animation.
The show premiered on WB stations usually before or after the Kids' WB! block on September 6, 2000 to April 14, 2003 then had a 1-year and 4-month and 1-day hiatus and then moved to Cartoon Network on August 15, 2004 and was on there till October 16, 2006. The show is similar to Muppet Babies, with the main characters taken care of by Granny.
Characters
See main article
Music
Underscoring for the series was written by veteran animation composers Steven Bernstein and Julie Bernstein. They were nominated for a Daytime Emmy (Outstanding Achievement in Music Direction and Composition) in 2006. They also composed the score for the Easter special, "Eggs-traordinary Adventure", writing the music and lyrics for the featured songs.
Broadcast
Original Run
Kids' WB! (September 6, 2000-April 14, 2003)
Cartoon Network (August 15, 2004-October 16, 2006)
Reruns
CN (December 22, 2006-June 8, 2010)
Boomerang (August 17, 2015-present)
DVD releases
Warner Home Video has released 32 of the 52 episodes of Baby Looney Tunes plus a DVD of the only Baby Looney Tunes movie: Eggs-traordinary Adventure
See also
References
External links
Template:Warner Bros. cartoons

fr:Baby Looney Tunes it:Baby Looney Tunes nl:Baby Looney Tunes ja:ベビー・ルーニー・テューンズ pl:Looney Tunes: Maluchy w pieluchach pt:Baby Looney Tunes zh:寶貝樂一通