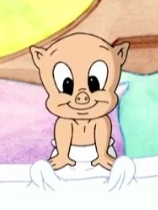 Baby Porky is a minor character and the baby version of Porky Pig.
Trivia
Like other characters, Baby Porky was seen in one episode of Duck's Reflucks when everyone used the catchphrase, "That's all, folks". And was also seen only in songs.
He is also the only character to be seen wearing a diaper all the time.