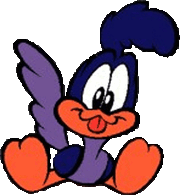 Baby Road Runner is a toddler version of Road Runner and one of the minor characters from the show. He gets chased by Baby Wile E.
Trivia
He made a cameo in "Are We There, Yet?" where he was seen with Baby Wile E. chasing him. The rest were songs.
He is another character to never be seen wearing a diaper.