This article is a list of the episodes of
Baby Looney Tunes
.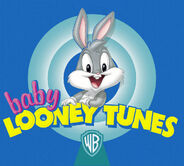 Season 1
The first season of the series focused on the characters and their growth with Granny's house being the main location. It is also the longer of the two seasons.
Season 2
The second season shifted its focus to the baby Looney Tunes exploring the world for the first time, and going to different locations as they grew up. It is the shorter of the two seasons.
Floyd Minton also appears also in this season, and in some instances, the characters' voices have been pitch shifted to be higher.
39. "These Little Piggies Went to the Market" / "Now Museum, Now You Don't"
40. "Take Us Out to the Ballgame " / "Clues Encounters of the Tweety Kind "
41. "A Bully for Bugs" / "The Wheel Deal "
42. "Oh Brother, Warehouse Art Thou?" / "Flu the Coop"
43. "Blast Off Bugs" / "Baby Brouhaha "
44. "Log Cabin Fever " / "A Mid-Autumn Night's Scream"
45. "Are We There, Yet?" / "Save Our Cinnamon"
46. "Lights! Camera! Tweety !" / "Backstage Bugs"
47. "Bend It Like Petunia" / "Cock-a-Doodle-Doo-It!"
48. "Wrong!" / "Win, Lose or Daffy"
49. "A Turtle Named Myrtle" / "There's Nothing Like a Good Book"
50. "The Dolly Vanishes" / "Duck's Reflucks"
51. "Stop and Smell Up the Flowers" / "Firehouse Frolics"

Community content is available under
CC-BY-SA
unless otherwise noted.